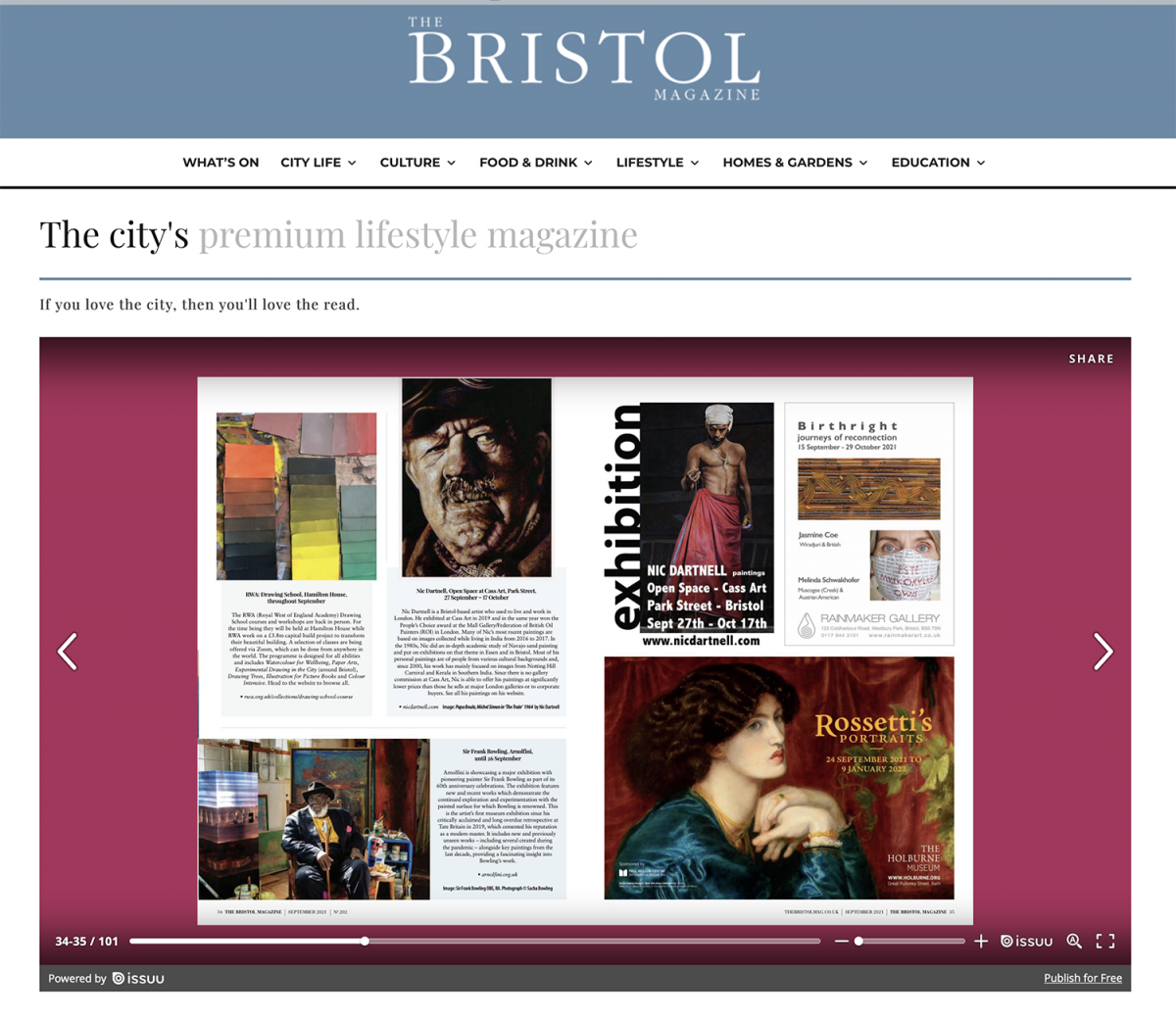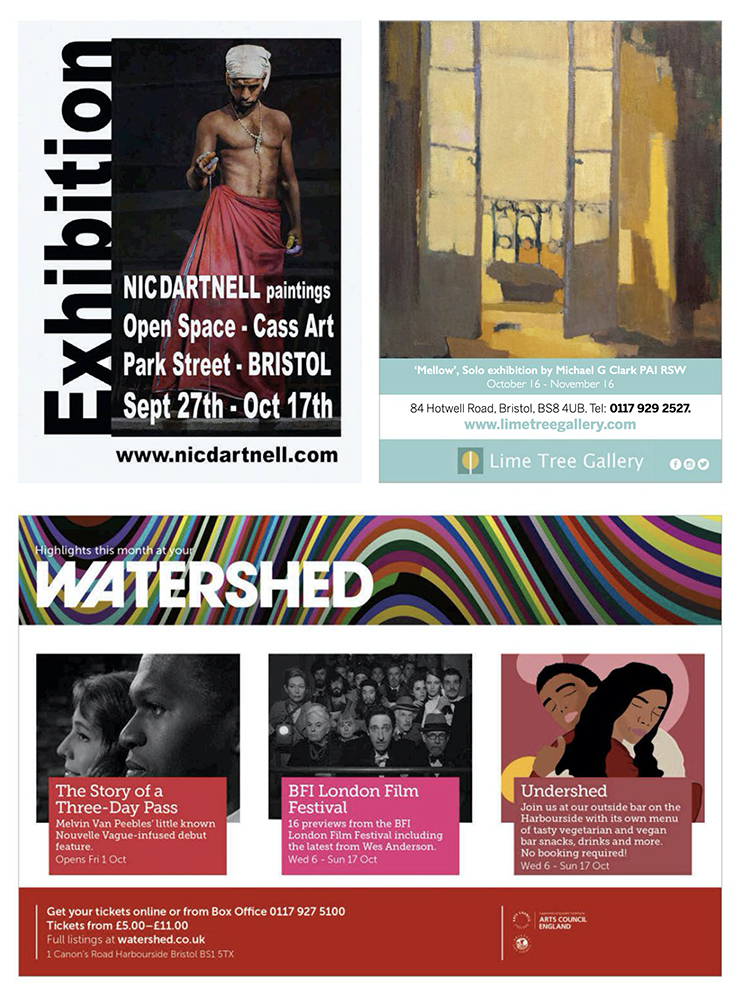 About the artist
Nic Dartnell is a Bristol based artist who used to live and work in London. He exhibited at CASS ART in 2019 and in the same year won the 'people's choice' prize at the Mall Gallery / Federation of British Oil Painters (ROI) in London. He has worked with Blackheath Gallery / London : Steidel Fine Art / Texas - USA : Kunsthaus / Essen - Germany : Tempest Radford and the Standard Chartered Bank of London. The collection of the SCB contains many of his most recent paintings, which are mainly based on images gained whilst living in India, in 2016 – 2017.
Nic has been an oil painter for 57 years. He is renowned for a famous rock album cover painted in the 1970s. Since then his work has gone through various changes but he has generally maintained a figurative, realist style. In the 1980s Nic did an in depth academic study of Navajo sand-painting and put on exhibitions, on that theme, in Essen - Germany and in Bristol UK. Most of his personal paintings are of people from various cultural backgrounds and since 2000 his work has mainly focused on images from Notting Hill Carnival and Kerala in Southern India.
CV and related information
Born in England 1951 - spent childhood in Malaysia -
(Malaya)
Spent teenage years in Scotland - Edinburgh
Lived in Leicester - Edinburgh - Newcastle - Islington - Hackney - Bristol

Began painting in oils aged 13

1968 - 69 Leicester Art School (Foundation year)
1969 - Painted Album cover for ELP
1970 - 73 Attended Newcastle Art School (Graduated with a 3rd class degree)
1973 - Prize winner in the Stowells Trophy - exhibited in the Mall Gallery - London
1973 - 2002 Lived and worked in Islington and Hackney - North London
2002 Moved to Bristol
2016 - 17 Lived for six months in Kerela India

In 1970s and 80s travelled regularly to the USA and Germany.
More recently travelled to Switzerland, India, Italy and Spain.

During 1970s - made special artwork for music bands Genesis, Spirit, Love
and book covers for Abacus books and other publications.
Exhibited a special item called "The Earth and the Sky' in the Roundhouse - Chalk Farm
and the Almost Free Theatre - Central London. Presented a general exhibition of my work
in Centerprise - Hackney. Exhibited 'Charlie Chaplin's Silent Song' at the Royal Academy
in a retrospective of 'Stowells Trophy' prize winners.

During 1980s - stopped painting in oils for a few years - studied the Art of Navajo Sand-painting at Goldsmiths College / University of London - MPhil study funded by British Academy - (not submitted for adjudication).

1989 - Made a Navajo 'sand-painting' on the floor of the Kunsthaus -Essen - Germany. Exhibited various examples of Navajo art and presented a public lecture.

During 1990s started painting in oils again - made a series of paintings based on photographs of children in Hackney - 'Children of the Future'. Put together a general collection of work called 'Silent Songs'.

1999 - Exhibited photographic prints of paintings at The Windmill
Restaurant / Fulham - London
1999 - Painted a series of images of Jimi Hendrix for a book by Johnny Black
1999 - Exhibited in 'EXHIBIT A' magazine - 'Compared to What?' was used
for the front cover of that edition
2001 - Exhibited prints at the Old Vic Theatre - Bristol
2002 - Exhibited prints at Marmalade Gallery - London
2003 - Exhibited prints and paintings in On the Wall - Arts
Fair - Olympia - London
2003 - Set of limited edition prints and cards of artwork published by
Post Impressions Ltd.
2004 - Commissioned by Tempest Radford - Standard Chartered Bank of London (SCB)
to paint "Muslim Girl" (large version of 'Salaam')
2005 - Exhibited paintings and limited edition prints at the Blackheath
Gallery - London
2005 - Exhibited paintings and limited edition prints at 93
Gallery - Bethnal Green - London
2006 - Exhibited paintings and limited edition prints at the
Blackheath Gallery - London
2006 - Invited to make a photographic record of Notting Hill Carnival - London
2007 - Exhibited paintings and prints 'SILENT SONGS'
at the Grant Bradley Gallery - Bristol
2007 - Continued photographic record of Notting Hill Carnival -
London in order to develop the series of paintings about 'Carnival'
2007 - Made a series of paintings - prints - photographs about 'Carnival'
2007 - Created web-site - www.nicdartnell.com
2008 - Made a 'sand' painting 'Sky and Earth' on floor of Grant Bradley
Gallery - Bristol and presented an exhibition and lecture about Navajo
ceremonial art
2009 - September - exhibited CARNIVAL images as an auction at
Grant Bradley Gallery - Bristol - reviewed in Venue magazine Bristol
2011 - Placed 'Prayer' in the offices of Amnesty International - London
2011 - 'Child' and 'Flute-player' exhibition at the Grant Bradley Gallery - Bristol
2012 - Completed 'Willow' for Tempest Radford
2012 - Exhibited 'Fluteplayer' 'Life' 'Smile' 'Prayer' at Blackheath Galley London -
2012 - Donated 'Prayer' for permanent display on the staircase, at
Amnesty International - London
2013 - Exhibited 'Mother and Child' - 'New World' at Blackheath Gallery London
2013 - Completed 'Fiddler' for Tempest Radford (SCB)
2014 - Completed 'Kerela Girl' for Tempest Radford. (SCB)
2015 - Completed 'Parasol' and 'Tallyman' for Tempest Radford. (SCB)
2016- 17 Made a six month stay in India and gained photographic material
in Kerela and Madurai
2017 - Four paintings - 'Night Market' - 'River Child' - 'Nemarah Girl' - 'Girl Praying' -
for Hautekiet Moto's NV - Belgium
2017 - Exhibited in Art Expo New York - with Steidel Fine Art - London & Texas
2017 - Exhibited in The British are Coming in Austin Texas - USA
2017 - Completed 'Two Young Men at Holi' for Tempest Radford (SCB)
2018 - Completed 'Five Men Lifting a Rock' and 'The Builder's Assistant' for
Tempest Radford (SCB)
2018 - Completed 'Sack Carrier' (Madurai) - 'Allapuzha Woman' - Silversmith (Varkala)
2018 - 'Punamoodu Man' shortlisted - but not exhibited - BP Portrait Competition
2018 - 'September Song' shortlisted - but not exhibited for ROI exhibition in the Royal Inst.
of Portrait Painters annual - Mall Gallery
2019 - Exhibited in Art Space - Cass Art - Bristol
2019 - Exhibited 'White Cow' in Royal Institute of Oil Painters ( ROI ) - London -
won - First Prize - Stanley Grimm Prize - by public vote
2020 - Exhibited six painting by invitation in 'Buy Art - Buy Now' on line exhibition of the
Mall Gallery London
2020 - Exhibited 'As Time Goes By' in ( ROI ) online exhibition Mall Gallery London
2021 - Exhibited in Art Space - Cass Art - Bristol
...



Press article : Venue magazine 2009




NIC DARTNELL :

AN EXPLORATION

OF LIBERATION

ABSURDITY

AND ENERGY

14th August 2009 Judy Darley

With his leather jacket, shades and cruiser motorcycle, painter/photographer Nic Dartnell is as comfortable with the rock and roll scene as he is with the visual arts community. It might seem fitting then that Nic's first commercial success came when he created the cover art for the 1970s album of legendary supergroup Emerson Lake & Palmer.


"I was 18 years of age, working in a record shop in Edinburgh. At that time in my life, my major passions were painting and music, so I sent off the artwork to Island records. I didn't know who ELP were, but apparently they liked it and it became the bird image on their debut album." Nic was born in Northampton, spent his childhood in Malaysia and lived in Hackney, London before moving to south Bristol in 2002. Throughout his career he has been intrigued by images that encapsulate aspects of various cultures. In the early 1990s he produced a series of intricate images of individual African and Asian children called Children of the Future. Later he made a series of five paintings for a book about Jimi Hendrix. In pursuit of more traditional cultural icons, Nic became interested in the Navajo people and spent a lot of time travelling in North America to study the art of Navajo sand-painting. His research culminated in the production of a full sized sand-painting on the floor of the Grant Bradley Gallery in Bristol in 2008. Nic's most recent project has been a series of works examining the transformative power of carnival. Using video footage to try to capture the essence of the Notting Hill Carnival, he has produced a series of lustrous works of art focusing on the visitors and performers at the vibrant street party. In a departure from Nic's detailed signature style, the images are made up of manipulated video stills transformed into oil paintings to create pictures that glow with life and a palpable sense of movement evoking the spirit of carnival. "I wanted to capture something about what draws people to an event like this, so I looked for images of people that reflected something about who they were and what they were feeling." Nic says, "Carnival is all about liberation, absurdity and energy. It is a chance to turn the world on its head, to revel in the sense of freedom and really celebrate the joy of life."

Nic Dartnell's Carnival

exhibition will be shown at the

Grant

Bradley Gallery

Number One St Peters Court,

Bedminster

Parade, Bristol

BS3 4AQ from September 3rd

- October 3rd

2009 – details

at www.grantbradleygallery.co.uk

Judy Darley

is a

freelance writer ad editor based in Bristol.

She is the

founder and editor of EssentialWriters.com a

website

for writers, by writers..